Training Programs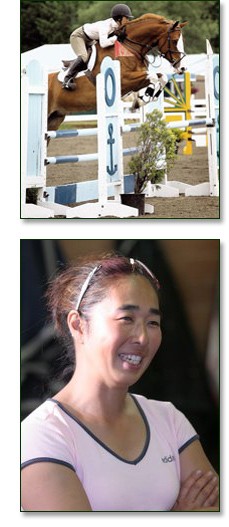 Trainer: Akiko Hamada of Stellar Sport Horses Hunter/jumper training is provided by Akiko Hamada, who operates her Stellar Sport Horses program at French Hill. Akiko has an extensive background of showing and training with top trainers such as 2012 Olympian and World Cup winner, Rich Fellers, and Dressage Master, Dominique Barbier. She trains horses and riders from baby green to the A show circuit levels. Akiko has always had a passion for meticulous ground and flat work to maximize the horse's balance and ability to carry itself. Although she began her career in the jumper ring, Akiko decided to study Dressage to improve her horses' performance over fences. Akiko trains and coaches with great sensitivity and tact. Stellar Sport Horses is primarily a show program, and riders in her program attend many shows per show season, with many to choose from on the West Coast from Canada to California. There are shows for all levels of riders – from small, local shows to large A rated shows such as HITS near Palm Desert, CA for several weeks in February and March.Contact Akiko:

503-327-5205
Boarding
The goal of care at French Hill is to give horses a relaxed and contented living situation.
Board is only offered if in training with Stellar Sport horses or FHF's Lease program.
42 12×12 rubber matted stalls, 3 12×14 stalls, most stalls have yoked windows, all have yoked doors
Stall dividers have 2/3 grill to improve ventilation and horse socialization
6 grooming stalls
Overhead fans in all stalls and in grooming area
Security & fire alarm systems
Automated non-toxic insect repellent system
Stalls cleaned twice a day, 7 days a week
3 scheduled feedings per day
Choice of 5 high quality grains
Highest quality Eastern Oregon hay
Use of Eurociser
2 heated hot water wash stalls
Rubber brick aisleways
Sand paddocks, large grass paddocks, and grass pastures
Derby jumping field
Trails
Please call for rates on board and training. Call Akiko Hamada at 503-327-5205 for more information.