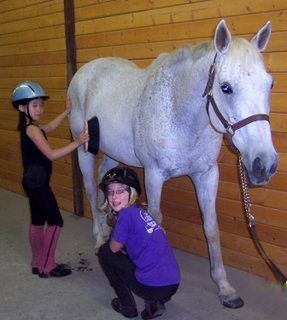 Is your child a horse lover? If so, our summer riding camp is just the right place for him or her. We have been running our camps since 1998 and know how to do camps successfully. Many campers return year after year, and start calling to sign up in January.
French Hill Farm summer camps are designed especially for campers ages 7-14 who wish to learn how to ride or to improve their present riding skills. Additionally, we offer Kindercamps for children 5 and 6 years of age.
Our goal is to teach the basics of riding and taking care of horses in a safe and fun environment. We feel that safety around horses is extremely important. Our school horses are carefully chosen for their ability to help people learn to ride without the fear of getting hurt.
In addition to our morning and afternoon riding sessions, we spend time learning all about horses and their care. We learn to bathe horses, groom them and tack them up. Other activities are trail riding (depending on level of campers), cleaning stalls and feeding the horses.
2021 Camp Schedule
If class is "Full" please send in registration form without payment to get on the waiting list. 
Download the 2021 Registration Form
5-Day Camps
For ages 7-14
$475 (deposit $200)
Beginner:
Campers with no experience or with limited experience are both appropriate for our Beginner camps
Beginner Hours

Mon-Thurs: 9:00 am – 3:00 pm

Fri: 9:00 am – 2:00 pm

Beginner Dates

Jun 21 – Jun 25 – FULL
Jul 19 – Jul 23 – FULL
Jul 26 – Jul 30 – FULL
Aug 2 – Aug 6 – FULL
Aug 9 – Aug 13 – FULL
Advanced Beginner:
For stronger beginners who can walk and trot and are working on canter and going over poles. ***Evaluation lesson needed (read below).
Advanced Beginner Hours

Mon-Thurs: 9:00 am – 3:00 pm

Fri: 9:00 am – 2:00 pm

Advanced Beginner Dates

June 28 to Jul 2 – FULL
Jul 26 – Jul 30 – FULL
Aug 2 – Aug 6 – FULL
Intermediate:
For students working on trotting/cantering small jumps. ***Evaluation lesson needed (read below).
Intermediate Hours

Mon-Thurs: 9:00 am – 3:00 pm

Fri: 9:00 am – 2:00 pm

Intermediate Dates

Jul 12 – Jul 16 – FULL
Show:
All levels of jumping riders are able to do show camp. For French Hill Farm riders only and instructor approval. Show fees for the bedrock horse show are separate from camp fees. Please see instructor for details on show fees. Showing is not required!
Show Hours

Mon-Fri: 9:00 am – 3:00 pm

Show Dates

Aug 23 – Aug 27
IMPORTANT PLEASE READ:
For all levels: campers should wear jeans or riding pants. We have helmets, boots and chaps to loan riders who don't have their own.
Bring a sack lunch with drink.
Application and deposit must be received together for sign-up.
Deposit of $200 is non-refundable after June 1st. There are no make-ups or refunds for missed camp days.
When Should I Sign Up?
Sign up as soon as possible as our camps fill up early. Reservations are made upon our receipt of the completed application and the NON-REFUNDABLE deposit after June 1st of $200 (cash or check only) . No reservations are accepted without the application and deposit. We cannot take reservations over the phone.
***Advanced Beginner, Intermediate and Advanced riders are required to have an evaluation lesson at the price of $60 before signing up if you are not a current student. Please call 503-678-6336 for more information and an appointment. The balance of the tuition is due June 1st for all camps in order to hold a space. Our Summer Camp Registration Form is available to download and print as an Adobe Acrobat (PDF) file.
Camp Cost & Payment
All full day camps are $475. A deposit of $200 must accompany all applications. The balance will be due June 1st for all camps. There are no refunds of the balance for any cancellations made after June 1st.